One-Pot Cooking~ Cheesy Italian Pasta with Chicken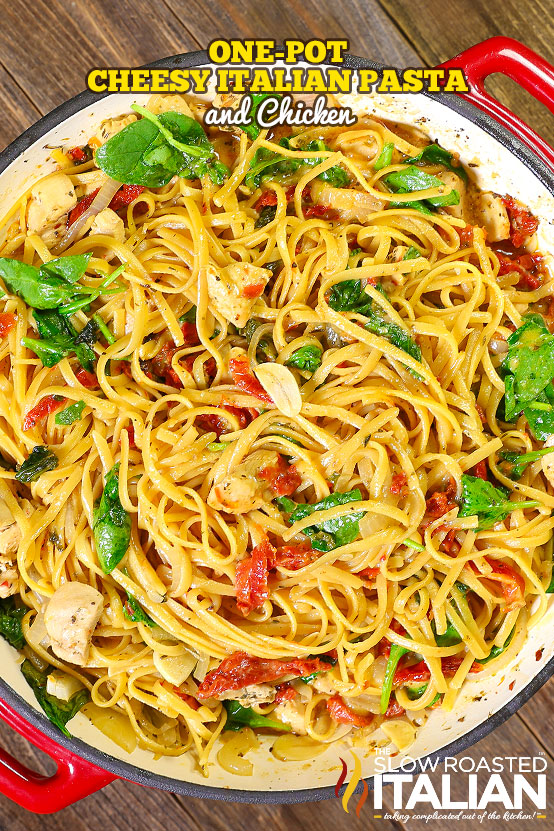 Summer is coming to a close and our park is still buzzing! With the sun shining and the fish jumping we offer you another one-pot wonder so busy days playing around the Lost Sierra's are finished with a delicious dinner that requires almost no clean-up. Pasta is always a hit with young and old and here the addition of sun-dried tomatoes adds a fresh twist.
This time we turn to our friends at The Slow Roasted Italian for a quick and yummy dish that can be modified easily to suit all tastes. Throw everything in a pan at once you ask~ how can that work out? Well, trust us… this is truly one of the simplest dishes you'll ever make and also one of the tastiest.
ONE-POT CHEESY ITALIAN PASTA AND CHICKEN
INGREDIENTS:
8 ounces baby spinach leaves, divided
1 cup sun-dried tomatoes packed in oil and Italian herbs, drained (about 7 ounces)
1 large yellow onion, sliced
1 pound uncooked boneless, skinless chicken breasts (cut into 1/2″ bite-size pieces)
6 garlic cloves, sliced
1 pound dry linguine
2 teaspoons dried Italian seasoning
2 teaspoons kosher salt
1 teaspoon fresh ground pepper
1 teaspoon crushed red pepper flakes
4 cups (32 ounces) reduced-sodium chicken stock
1 cup (8 ounces) chardonnay wine
4 ounces fresh Parmesan cheese, shredded

INSTRUCTIONS:
Combine 1/2 of the spinach with the tomatoes, onion, chicken, garlic, linguine, Italian seasoning, salt, pepper and crushed red pepper in a 5-quart Dutch oven over medium-high heat. Pour chicken stock and wine over top. Cover and bring to a boil.
Cook 7-9 minutes until pasta is al dente (with a bite to it). Toss pasta with tongs occasionally to keep the pasta from sticking to the bottom of the pot. You will still have some liquid in the pan when the pasta is done cooking. This is going to make the base for our delicious cheese sauce.
Turn off the heat and add the cheese to the pasta. Toss pasta with tongs until the cheese melts into the pasta. Toss in remaining spinach.
Serve and enjoy!
See how easy that was? Just add in some crusty garlic bread and perhaps an appetizer or side salad and dinner is done in no time. If you try it out at camp make sure to share photos and give a review.