Camp Cooking ~ Embracing the Dutch Oven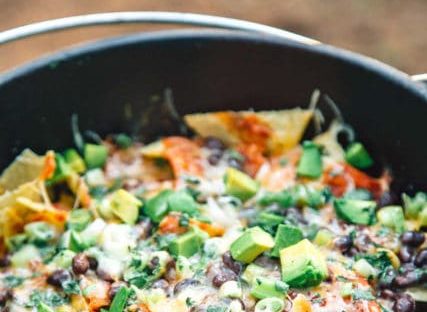 Dutch oven cooking isn't new. In fact, one of the original forms of settler cooking was in these large cast-iron pots. Modern-day Dutch ovens are often in the ceramic or cast iron but for camp cooking, you want the real thing; a cast iron with sturdy legs. The magic of cooking in a Dutch Oven is that you, literally, can cook anything that you could cook in your oven at home, all while experiencing the great outdoors. You can begin with some group friendly nachos and expand your repertoire from there.
If you are new to cooking with a Dutch Oven check out these tips. The seasoning, cleaning, and use of your oven is essential to both your recipes but also to the life of the oven. Another important element; the number of briquettes used. In the beginning, make sure to follow the recipes exactly and soon you'll be a pro and can experiment a bit on your own.
One of our favorite things to cook is the oven is bread. Using this handy no-knead dough recipe it is super simple to create the perfect loaf right at camp. Just imagine the envious looks your camp neighbors will send your way upon smelling a fresh loaf just in time for dinner.
Chicken enchiladas are always a hit and this easy-going recipe allows for plenty of leisure time before indulging in a fantastic dinner around the fire.
For true ease perhaps try out a simple but delicious lasagna . Throw in a side salad and some garlic bread and dinner couldn't be simpler.
The Dutch Oven can even be utilized for breakfast and this breakfast bomb recipe is truly THE bomb!
Make this year the year you try out Dutch Oven cooking on your next camping trip.