Camp Cooking~ Bring on the Meat!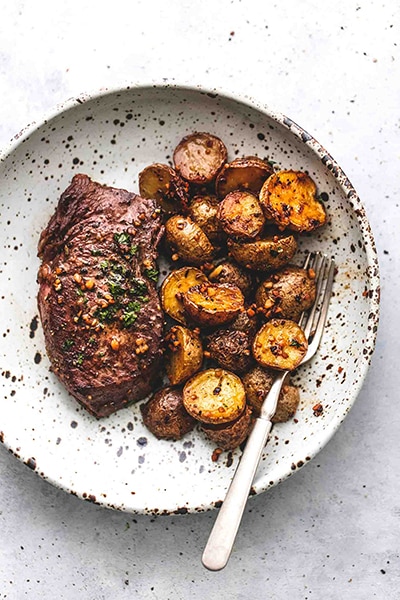 As the park continues to fill up our evening walks are often highlighted by the smells wafting our way, the most intoxicating of which is often from a BBQ full of steak. A simple and well-cooked steak is always a favorite but why not try a new spin on an old classic with a delicious Garlic Butter Steak and Potatoes from our friends at Creme de la Crumb. By all means, follow the recipe and finish in your oven, but we have also had great success cooking the entire dish on the grill in a cast-iron pan.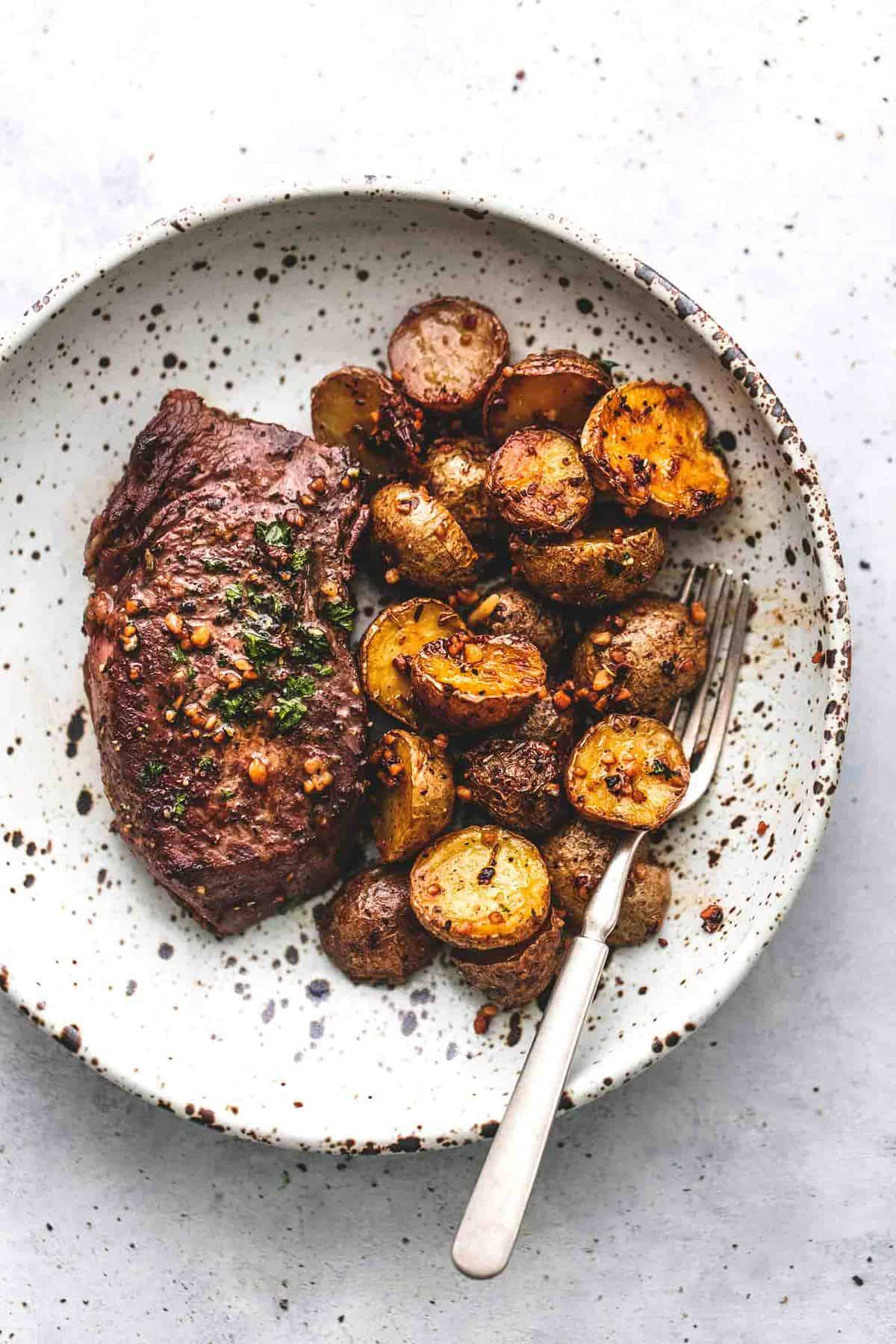 It is important to read the Recipe Notes shown after the recipe in terms of size and cut of steak that has proven the most successful. After that, add on a simple side of veggies or a salad and make sure to include some garlic bread or Texas toast to soak up all of those amazing juices from the butter, garlic, and seasoning.
Ingredients
*2-4 petite steaks *see note
* salt and pepper to taste
* garlic powder to taste
* 1 tablespoon olive oil
* 2-4 pounds baby potatoes, diced
* 2-6 tablespoons salted butter, soft enough to mash with a fork one tablespoon per steak, plus two tablespoons
for the potatoes
* 2 teaspoons minced garlic
* 1 teaspoon dried Italian herb blend
* 1 teaspoon chopped fresh thyme
* 1 teaspoon chopped fresh parsley
Instructions
-Preheat oven to 400 degrees. In a small bowl combine butter, garlic, and dried herbs and set aside. Season
steaks generously with salt, pepper, and garlic powder on both sides.
– Place skillet over medium-high heat and drizzle with oil. Sear steaks for 2-3 minutes on each side until nice
and browned. Transfer to a plate and set aside.
– Add potatoes to the skillet, season generously with salt, pepper, and garlic powder and saute 3-5 minutes until
browned. Push potatoes to one side of the pan and return steaks to the other side of the pan.
– Transfer to oven and cook for 15-20 minutes until potatoes are fork-tender and steak is cooked to your
preferred doneness.
– Immediately after removing from oven, place a dollop of the garlic butter on each steak and the rest on the
potatoes and let it melt over the food before stirring the potatoes to coat in butter and then topping with
chopped thyme and parsley before serving.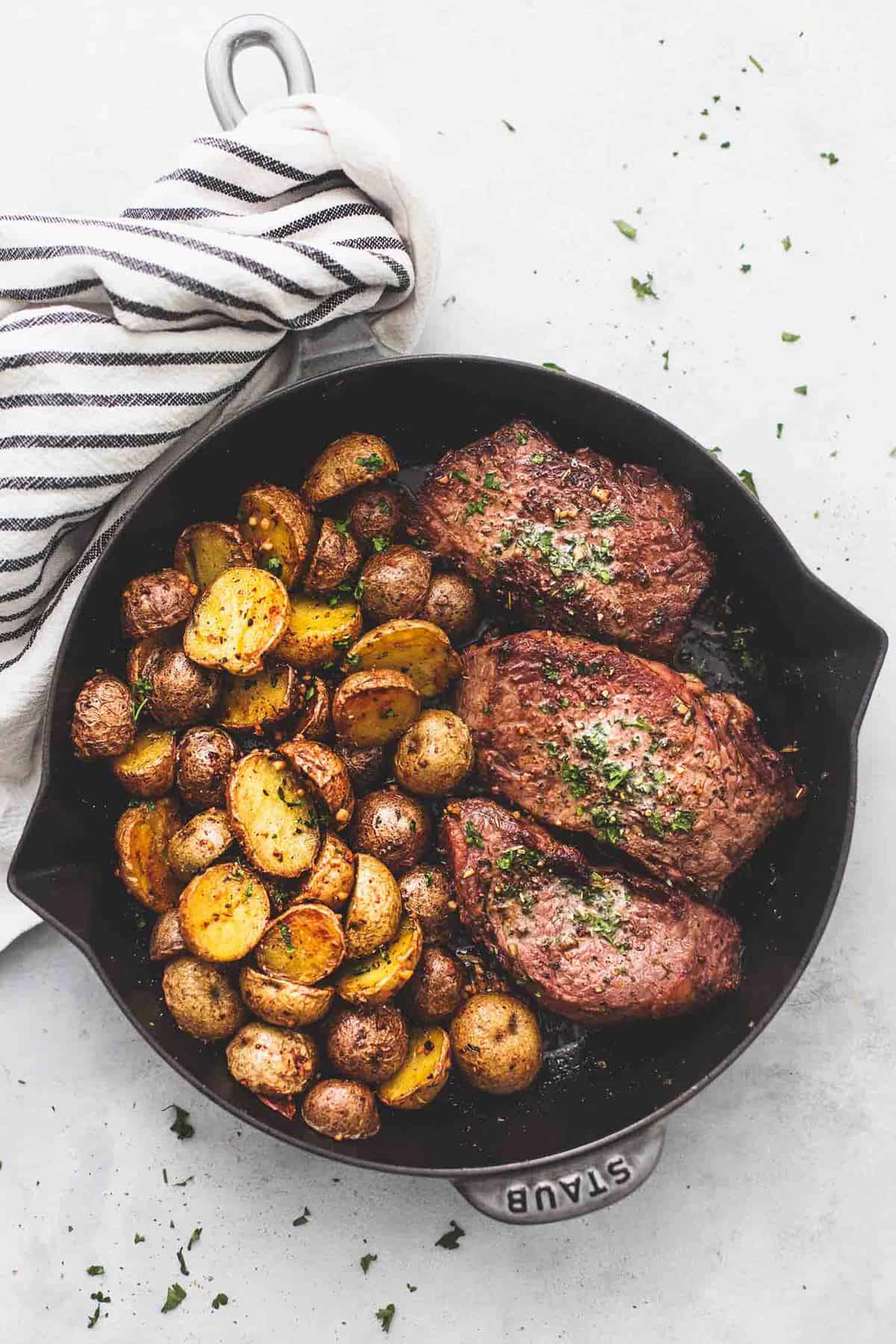 Recipe Notes
I've tried this with several cuts of beef and all have worked out to be delicious. I just look for the right size – steaks
small enough in a 12-inch skillet and still cram a bunch of potatoes in there (usually steaks that are about 4-6
inches long), and a decent price. The steaks should be about 1 inch thick (I recommend staying away from very
thin cuts as they will cook too quickly and end up overdone at the end!).
Any oven-safe skillet will work but I highly recommend a cast-iron pan because it is the best for getting that
awesome sear on your steak.