Camp Dinner done right with Skillet Nachos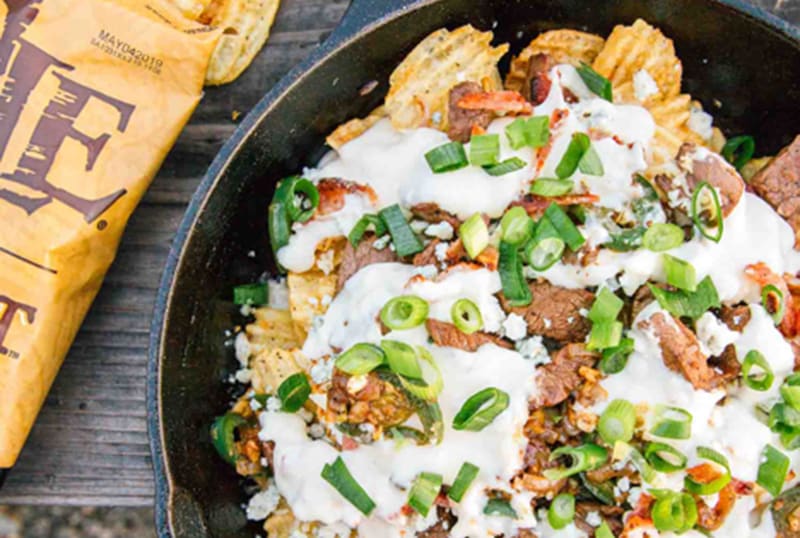 Camping season is officially upon us! Here at Clio's we've been welcoming our guests for a couple of weeks now and we immediately noticed (okay, drooled over) delicious smells wafting into the office. Gourmet camp cooking is hitting new levels.
Cooking at camp can come with unique challenges and we are always on the lookout for quick, relatively simple, meals that are also a feast for the taste buds. Nearly everyone loves nachos and when we saw the latest from our friends at Fresh off the Grid we couldn't resist trying them for ourselves. Are these nachos over the top? They sure are, but in less than 30 minutes with a little bit of effort they are so worth it!
STEAK & BLUE CHEESE NACHOS
Ingredients:
2 slices applewood bacon
3 oz sirloin steak, cubed
1 sliced jalapeno (deseeded if you're sensitive to spice)
1 tsp Cajun seasoning
1 shallot, minced
1 clove garlic, minced
8 oz Kettle Brand Krinkle Cut Salt & Fresh Pepper chips
Beer cheese sauce (recipe follows)
½ c shredded pepper jack cheese
½ c crumbled blue cheese
2 green onions, diced
Beer Cheese Sauce:
½ c pepper jack cheese, grated
¼ c cream cheese
¼ c parmesan cheese, grated
2 tbsp milk
2 tbsp 10 Barrel Trail Beer
Instructions:
Place bacon in a skillet, preferably cast iron, and cook over medium-low heat until crisp, about 7 minutes. Remove, chop, and set aside.
Add cubed sirloin, jalapeno slices, and Cajun seasoning to the skillet (don't drain the bacon grease!). Sauté until sirloin begins to brown, around 2 minutes. Add the shallot & garlic and sauté until fragrant, another couple of minutes. Place into a bowl and drain off any extra fat if needed.
In a small saucepan add the pepper jack, cream cheese, parmesan, milk and beer and heat over medium low heat, stirring frequently until a smooth sauce forms. Add additional beer if needed to thin the sauce (or just because).
Place the chips into the skillet, top with steak and jalapeno mix, pepper jack and blue cheeses, and pour the beer cheese sauce evenly over the top. Cover with a lid or sheet of foil and heat on low until everything is heated through.
Garnish with sliced green onions and enjoy!
Pro tip: Stir the nachos from the bottom up at serving to full distribute all of the goodness.
NOTES
*It is important to use freshly grated cheese for the sauce. Pre-shredded cheese that you buy in the store is coated in an anti-caking agent, which will prevent you from making a smooth sauce.
This recipe, of course, can be widely altered to your tastes and remain equally delicious. Use any meat, beer, or chip and discover a mouthful of joy that is perfect to be enjoyed with friends, family, and the great outdoors.
Stay tuned for more great camp recipes throughout the season!