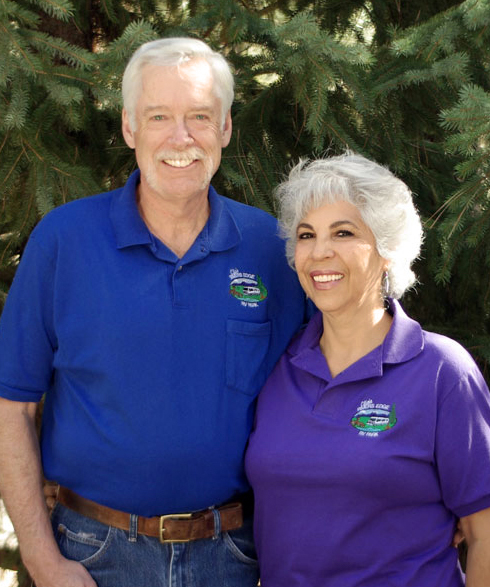 Kevin and Gloria LaPlant
"We look forward to seeing you here!"
Meet Your Hosts, Kevin and Gloria LaPlant
Clio's Rivers Edge RV Park has been creating memories for people of all ages since 1971. Kevin and Gloria LaPlant have owned the Park since 1999. Their vision and that of their dedicated staff is to promote a Quality RV Park Experience by providing a prestinely clean, friendly, fun and relaxing environment in one of the most uniquely beautiful places on earth – The Lost Sierra. Come visit us at our Park, enjoy the hidden treasures of The Lost Sierra and make memories that will last a lifetime.
Our Story
We first became aware of this area because of Portola's Western Pacific Railroad Museum and their "Rent a Locomotive" program. Kevin has always been an avid train buff so for his birthday I surprised him by booking a tour for him. We stayed at Herrington's in Sierra City because they allowed dogs. At the time Kevin was a police officer in the Bay Area, and he had a K-9 partner named Lasso. We also brought our golden retriever Lucy (yes she was a red head) and named after Lucille Ball.  I am an "I Love Lucy" fan. The four of us went on the train trip and instantly fell in love with the area.
We found that it was difficult to travel and book hotel rooms that allowed dogs, especially big dogs.  When you're a K-9 handler, you cannot leave your partner with just anyone, so we always took Lasso with us. We came up with a great idea, let's rent an RV and see if we like that. We rented a 24-foot trailer without a slide, mistake #1. Two adults and two big dogs in a small trailer without a slide out is just a little too crowded. So we turned in the trailer and immediately proceeded to buy a 29-foot trailer with a large slide out, oh that was much better.
We find that the majority of our guests travel with their furry family members. Many do not want to leave home without them. They simply do not enjoy their vacation as much if they have to leave part of their family at home, so RVing works best for them too. Because we know exactly how these guests feel we are very dog friendly. All our maintenance staff carry dog biscuits on their carts and the dogs know it. They can hear a cart coming from the other side of the Park and they're ready. Remember dogs have better hearing than us humans. Since we had fallen in love with Plumas County, the next few years we spent our vacations coming up for one week at a time, usually once in the spring and once in the fall. We stayed at several of the RV parks in the area, but found that Clio's was our favorite.
The last time we stayed at Clio's was the fall of 1998. On that visit, we looked at each other and said I wonder if they are interested in selling the Park. We contacted an agent that specialized in selling RV parks and asked her to contact the owner to see if she was interested in selling. Once back home in the Bay Area, we got the call – the answer was yes! Kevin being a police officer and Gloria being an ICU nurse (working at Stanford & Sequoia Hospitals), both had very stressful jobs. Running Clio's Rivers Edge would become our semi-retirement jobs.
The RV Park was originally built in the mid 70's by Karl Hartwig and family, as a matter of fact Karl still lives just across the river and still keeps watch over the Park. In the beginning, it was not unusual to get a call from Karl to advise us that someone had a campfire that was way too big. If Karl thought it was too big from across the river, it definitely was too big.  We are the third owners of Clio's.  Our first season opener was April 15, 1999. Yes, this is tax day, but what better way to remember that your favorite Park is open for the season. You can put your taxes in the mail and then come hang out with us for some fun and relaxation.
Because of Kevin's background in law enforcement (he still works as a Reserve Sheriff's Deputy for Plumas County), we choose to give a discount to active and retired peace officers, active and retired fire fighters as well as military personnel who have ever served our country. To those who Serve, we say Thank You!
Owning our own business gives us great satisfaction. We enjoy keeping the RV Park looking great. "Peaceful, clean, and immaculate" are the words many of our guests use to describe our Park. We strive to run our Park in a friendly and inviting manner and treat our guests as we would want to be treated. Our vision and that of our staff is to promote a quality RV park experience by providing a friendly, fun & relaxing environment for all to enjoy! Come visit our Park, enjoy nature's splendor, and make your own memories.
Email us with questions, we are full of answers!  info@riversedgervpark.net